One Thing We Learned This Month
Policy is rarely stronger than culture
Last week I read an amusing article about how an employee, June Rivas, mocked her employer's dress code after being told that "wearing her hair in a ponytail or donning a headscarf was unprofessional". The company didn't have an actual dress code; it merely stated that employee's clothes must be "clean and pressed".
To take a stand she wore cosplay (costume play) each day which fit into her boss's dress code and documented it online. She's been the Black Widow and a combination of both Star Trek and Star Wars characters.
The employer's reaction? Change the dress code to ban straps, hats, sandals, cleavage, lace and cultural head wraps (though they have since back-tracked on the head scarves). Rivas has reported the employer to the US Equal Opportunities Commission as a result.
In my opinion, this is a perfect example of how policy can, and must never, replace the right culture. Once you create an atmosphere of rules and regulations, you tend to get what you deserve. I am no Star Wars fan, but I agree with Qui-Gon Jinn in Star Wars: The Phantom Menace, when he said "Your focus determines your reality".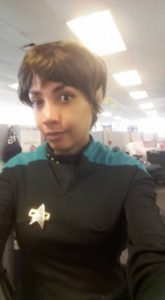 Hooking up

I remember once having a boss who insisted we create a policy to ban workplace relationships to avoid nepotism or conflict of interest. With at least 20% of relationships starting in the workplace (that's from a Google Consumer Survey in 2015), he was naïve to think this would prevent people from hooking up. Instead, the result was that people just kept their relationships secret, meaning we had even less visibility of any potential issues.
By contrast, in a strong values based culture which encourages openness and trust (because everyone employed is an adult, after all), people are more likely to be open about their relationship status and wouldn't fear talking about the challenges which this could bring them in their work. They'd work with their manager to resolve any potential conflict.
The situation that Rivas's employer finds themselves in is the former. By focusing on rules and regulations, without a clear why or what, they are opening themselves up to rebellion. You can't enforce a rule if it conflicts with the culture; which based on the original dress code, appears to be relaxed and open-minded.
In my opinion, rules should never be more important than the 'why'. If people are clear on 'why' and understand the values that you aspire to, and if you treat employees as adults, then they'll make better decisions. As such, the policy manual, including the company dress code, becomes redundant. People will self-manage according to their understanding of who the company is, what it stands for and how it wishes to present itself to the world.
You can't have a rule for everything but you can have values and expectations as guiding principles in all that you do.
Save
Save
Save