A wing and a prayer
Why did business travel lose its allure?
Maybe it used to be the case that business travel was aspirational – think of it in the 1970s or 1980s and you'll probably be thinking of people sitting in first class sipping Martinis, being picked up in some sun-soaked airport by a handsome chauffeur, and spending the evening gently necking Singapore Slings poolside.
Whereas anyone who's travelled recently will probably associate it with long queues at airport security, squashing in between stag party attendees on an easyJet flight and eating dinner from your hotel's vending machine.
So yes, maybe international business travel has lost much of its cachet. Certainly research is telling us that business travellers currently hate it more than ever and will go to considerable lengths to avoid it.
A lot of this reluctance is down to factors such as those queues, social unrest, the possibility of crashes, global terrorism and a constant churn of health scares. (The latest being the Zika virus, which will become even more of a talking point as Rio 2016 approaches. But that's only one in a morbid chain that includes SARS, Bird Flu and DVT.)
Flights of unfancy
A survey by Collinson Group has revealed that over a third (36%) of high income earners in the UK would think twice before travelling anywhere in the face of a perceived increase in global instability.
Additionally, mass affluent travellers are journeying less. An analysis of international flight patterns shows these travellers took an average of 1.9 business trips and 2.9 leisure trips over the last year, compared to 2.5 business trips and 3.5 leisure trips in 2014. (Note to non-economists: 'mass affluent' means those at the high end of the mass market, or individuals with income of around £35K to £70K per year.)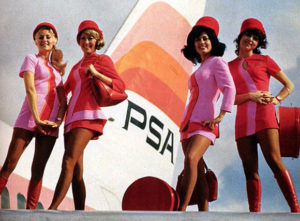 Collinson Group suggests this is a strong case for employers to provide travel assistance in the form of a health and security hotline. (Guess what line of business they're in.) Whether or not that's right, it does suggest that we should see international travel as a potential source of employee stress and even resentment toward the employer.
Coupled with improved standards of video conferencing, the days of a jet-setting business elite might be behind us. So sell your shares in British Airways, and buy shares in Skype. But what do you do when an employee refuses to fly?
'I'd presume that anyone asked to fly abroad will have a contract that provides for occasional or regular travel outside the UK,' Donald MacKinnon, Director of Legal Services at Law at Work, tells us.
'In that case, the only possible route for the employee to refuse would be if they had a genuine health and safety concern about travelling to specific locations – more likely zones where there's political unrest. If the Foreign Office guidance was to avoid travel to certain places, I suspect the employer would struggle to show that this refusal to travel was unreasonable.'
In other words, employees generally have to get on board (literally) unless there are solid, specific reasons not to. That said, there might be a quick win here for employers looking to cut down on employee stress and on their carbon footprint – strengthen your VC capability and encourage your already hard-worn people to leave their suitcases at home.